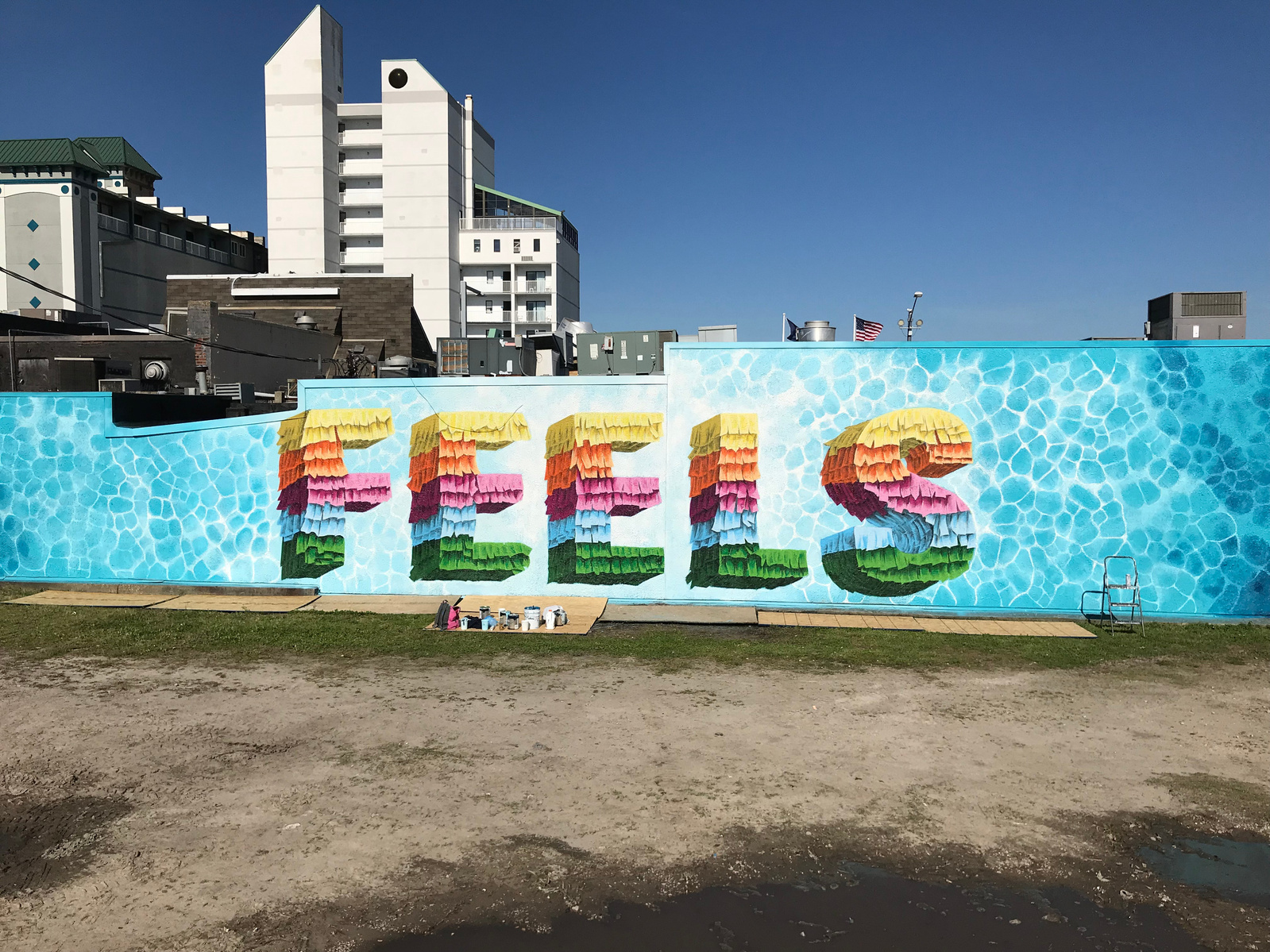 A year ago I was fortunate enough to be selected to participate as a visual artist in the first Something in the Water Festival along with a group of very talented creators. I was paired with artist Shaylen Broughton and we collaborated to create one of my favorite pieces to date of anything I've made. Little did I know we were going to create something that was going to almost mean more in the absence of everything the festival stood for than during.
Something in the Water is a celebration of not only Virginia, but also of ideas, collaboration, community, and positivity. Shaylen and I were buzzing on the energy that was surrounding the festival, so the work we came up with was not only something we were super proud of but also something that we felt was in total tandem with the talks, concerts, and pop-ups that were happening at the oceanfront. On a personal note, I was creating at a very pivotal time in my life—my wife and I were moving houses (literally that same weekend as the festival) AND she was around 38 weeks pregnant with our son. It was chaotic and fun and stressful and empowering all at the same time. I kind of felt invincible.
Fast forward to a year later and the city, state, country, and world are on lockdown trying to slow the spread of COVID-19. People are out of a job and businesses are trying to avoid closing their doors completely by being innovative and more strategic than ever. Healthcare workers are overwhelmed. For some reason, toilet paper doesn't last on a store shelf for more than 30 minutes. In a way, it feels like the complete opposite of where I was a year ago. Don't get me wrong, being a dad is still pretty chaotic but when you go from extreme connectedness to global isolation in a year you struggle to come to grips with the lasting impact of your own efforts.
I realized, however, that even though we were creating something that was reflective of positivity and the exchange of ideas we were actually making something that could evolve like people. Seeing some of the ways the mural has been shared recently as compared to a year ago has made me feel more connected to the community than before because people are using it to express love, unease, remembrance, fear, and escape. I'm so glad we made something that we put ourselves into because it makes me feel like I understand people and they understand me.
If you want to make something that outlives you start by making something that is you.